Olive Oil & Balsamic Vinegar Class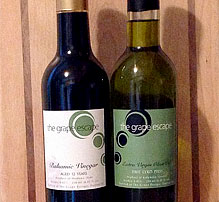 Our supplier's family has been growing, producing and distributing the best extra virgin olive oil from Kalamata Greece to the entire world for over 300 years. Now you can experience the fruits of their labor at The Grape Escape where you can taste a boutique product made with true love.
You may bottle the oil as it stands or infuse it with fresh herbs that are dehydrated on site within 24 hours of bottling. Either way, the oil is outstanding!
The 12 Year Aged Balsamic Vinegar is from Modena, Italy and was made in the true tradition of balsamic; making its journey through six different oak barrels before finding its way to The Grape Escape.
The Grape Escape Olive Oil and Balsamic Vinegar Bottling event includes the following:
An interactive session with one of our Master Winemakers at The Grape Escape
Olive oil and balsamic vinegar taste testing and comparison with store bought products
Gourmet lunch, highlighting our olive oil and balsamic vinegar
Design your labels using our state-of-the-art software to instantly personalize your products
Have our designers incorporate your customized photo or company logo for a truly unique look (*requires ten day advanced notice; additional fee for customization)
Create your own herb blends for your extra virgin olive oil, using fresh herbs
One bottle (375 ml) of our olive oil and one bottle (375) of our balsamic vinegar (per ticket) to bring home
Come by and see us…bring your friends and discover unbelievable wines and culinary treats from Dayton NJ.
CLICK HERE for more information