About Us
"Wine…offers a greater range for enjoyment and appreciation than possibly any other purely sensory thing which may be purchased." – Ernest Hemingway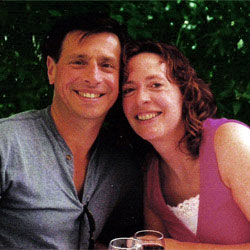 The Grape Escape has been a New Jersey destination for over ten years. The management and staff of The Grape Escape are proud to now be under the direction of Ed Ventura and Phyllis Heller, two certifiable winenuts.
Ed had a successful corporate career, followed by establishing and operating a management consultancy that specialized in data governance. He decided to pull back on the consultancy when the opportunity arose to purchase The Grape Escape from its founders, Tom and Nancy Nye, who relocated to the Midwest.
Phyllis and Ed had been long-time customers of the winemaking school and, combined with their life-long journeys centered about wine, felt that The Grape Escape was a perfect fit. Traveling throughout Italy, they learned about winemaking from some of the most incredible boutique wineries, such as Pratesi in Carmignano (Tuscany) and Tasca D, Almerita and Morgante in Sicily. Wineries in France served as a backdrop for developing their palates throughout the Rhone Valley, with visits to the highly acclaimed towns of Chateau-Neuf-de-Pape and Beaunne. Of course, let's not forget the New World wine regions throughout California, Washington and New York.
The plans that Phyllis and Ed have for The Grape Escape revolve around the model of winemaking as an excuse to socialize. The four steps of the winemaking process give you the chance to be with friends who have a common interest and with whom you will be transforming fruit from the land into the nectar of the gods. There are plans to expand the wines offered and to bring you some new options for your wine to age. The Grape Escape will be looking to offer some Old World style options, all while continuing to produce customer favorites.
The management and staff at The Grape Escape hope you will join them as the offerings expand and the journey continues!