Make Your Own Gourmet Ravioli
Delight in Making Your Own Gourmet Ravioli!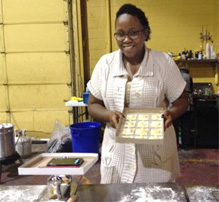 Join us for our "Make Your Own Gourmet Ravioli" event at The Grape Escape winery.
Reservations are required and space is limited for this completely unique culinary experience.
The cost is $95 per person or $175 per couple and includes the following:
Learn and prepare your pasta dough by hand for making the ravioli
Our chef will step you through the creation of 3 unique fillings for your ravioli
Stuff, cut and box your gourmet raviolis
Take home 12 ravioli of each kind for a total of 36 ravioli
Custom label the ravioli boxes – Great for gifting or just showing off!
Enjoy fresh ravioli with artfully matched sauces – served and prepared by our chef
Take home the ravioli recipes for sauces & fillings
Come by and see us bring your friends and discover unbelievable winemaking, olive oil/balsamic vinegar and mozzarella classes from Dayton NJ.
CLICK HERE for more information