Make Your Own Mozzarella
Don't Worry…It's Easy, We'll Show You How!
Join us for our "Make Your Own Mozzarella" event at The Grape Escape winery. Learn the art and science behind making mozzarella.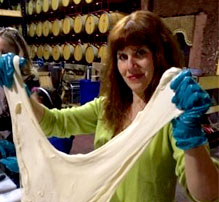 Reservations are required and space is limited. These fun workshops sell out months in advance, so purchase your tickets today.
The cost is $85.00 per person or $160.00 per couple and includes the following:
Hands-on instructions on how to make your own mozzarella
Notes and recipe provided
Two person teams will be created – master cheesemaker and assistant
Each guest will make their own mozzarella and then switch roles with their assistant
Ticket For One enables you to go home with 4-5 large mozzarella balls; Ticket For Two will be 7-8 large mozzarella balls total
We will teach you the proper way to freeze and unfreeze your mozzarella balls
This is a perfect class for company teambuilding events – or just for some fun
Surprise treat!
Come by and see us…bring your friends and discover unbelievable wines, olive oil and balsamic vinegar from Dayton NJ.
CLICK HERE for more information